Great to see that The Alchemy Press Book of Urban Mythic 2 has been shortlisted in the Best Anthology category for this year's British Fantasy Awards.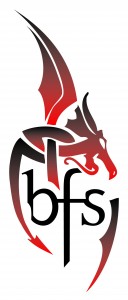 The full details of all nominees can be found here, and winners will be announced during the Awards Ceremony which takes place on Sunday 25th October, at this year's FantasyCon in Nottingham.
Not sure yet if I'm going to be able to attend this year's event yet, as some substantial day job orientated changes have taken rather more of a toll on my free time than I'd expected. Hope springs eternal though, so you never know.
Good luck to Peter, Jan and everybody at Alchemy come October, and thanks again for the opportunity to contribute to Urban Mythic 2 (which if you haven't already gone out and bought [shame!] is still available from all the usual stockists, and well worth your time and your money.