The genesis for the idea of The West Dulwich Horror originally came from a piece of street art I spotted whilst visiting a friend in London a couple of years back. Upon returning home, I tried to locate some online information on the piece and that's when I happened upon the Baroque The Streets Art festival which takes place in Dulwich annually and forms one of the central themes of my story.
For anyone who's read the story and wants to know more, you might be interested to discover that many of the images used are based on real creations still in place on the streets of Dulwich.
Below are a selection of images and links to several articles on the festival, as well as to The Dulwich Picture Gallery, which includes an excellent virtual tour of the interior.
Finally, just wanted to sat a huge thankyou to Ingrid Beazley at the Picture Gallery for all her help in providing invaluable background information on the various street art pieces during the writing of this story.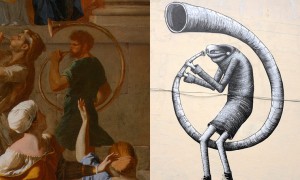 Links:-
Dulwich Festival – Street Art Homepage
Baroque The Streets Art Festival in Dulwich
The Outdoor Street Art Gallery of Dulwich
Birth of a Street Art Gallery – Interview with Ingrid Beazley, Curator of the Dulwich Outdoor Gallery
Dulwich Outdoor Gallery Facebook Page