Following on from last month's free paperback/kindle giveaway with every newsletter sign-up on the Haunt Jaunts website, I've got 5 copies of the Shadow People & Cursed Objects anthology up for grabs as part of a competition this month.
To be in with a chance of getting your hands on the paperback version of the anthology, simply email me via the 'Contact Me' tab (found at the top right hand side of this webpage) with the word COMPETITION at the beginning of your message, along with your answer to the following question:-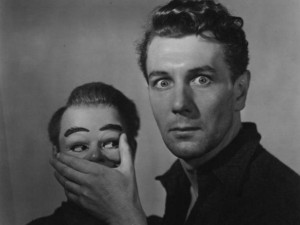 "Michael Redgrave played an unbalanced ventriloquist who believes his dummy is really alive in which classic 1945 British anthology horror film?"
Please remember to include both your name and email, so that you can be contacted, should you win.
The competition closes at midnight on the night of Sunday 10th April, and winners will be notified the following day, after I draw 5 names from a perfectly ordinary, uncursed hat.
UPDATE: Deadline extended to Saturday 30th April due to total administrative cock-up. See related post.