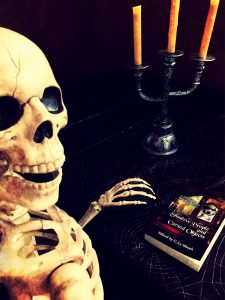 Those spooky folks over at HauntJaunts.net do love a good competition, and for the entertainment portion of their Halloween 2016 festivities this year, they're treating you to a reading from their anthology, Shadow People and Cursed Objects: 13 Tales of Terror Based on True Stories…or are they?
, which included my story, 'Murder For Dummies'.
Entrants are asked to pick which one of the thirteen stories they'd like to hear read over Facebook Live on October 31st, and will automatically be entered into a draw to win the below prize pack:-
A complimentary copy of SPACO (your choice of Kindle or paperback)
A $10 Amazon gift card
A Haunt Jaunts pen
The competition is open until October 30, 2016 11:59 p.m. Central (US), and you find all the details here.
UPDATE:
Well the votes are all in and looks like Murder For Dummies won the Pick a Chapter contest over at HauntJaunts Halloween Party last night with a sizeable margin.
Big thanks to all of you who voted.
For those interested, and to find out if you win the prize draw (for those who voted), tune into Haunt Jaunts Facebook live feed this evening (Monday 31st October) at 7pm GMT to hear the winning stories being read out, followed by the prize draw.