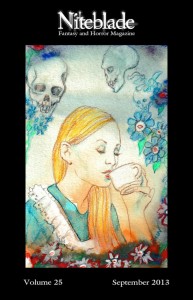 My latest horror story 'With The Band' is out now, in the newly released September issue of Niteblade Magazine.
Issue #25 is entitled 'Alice Underground' and you can download it in various ebook formats from either the Niteblade Shop or Amazon.co.uk/Amazon.com.
This one's a bit of a mini-milestone for me, as it's my 20th publication. The last four years have gone by so quickly, I find myself wishing I'd written more than I have.
Time to redouble my efforts for the next four years then!