Forgotten Tomb Press have confirmed the full Table of Contents for their upcoming flash fiction anthology '100 Doors To Madness', due out shortly, which contains my piece 'Rank & Defile'.
You can read the full list of authors and stories here.
Below is a preview of the cover art to whet your appetite and hopefully make sure you don't 'blow the bloody Doors off!' *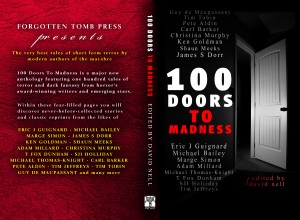 * Sorry, couldn't resist. Am sure the lowest plain of Hell is reserved for bad punners.