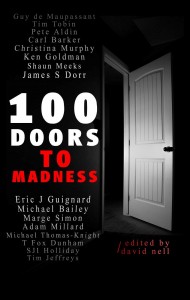 The debut anthology from small press newcomers Forgotten Tomb is released today and includes my story 'Rank & Defile'.
As the title implies, 100 Doors To Madness contains new horror fiction from 100 different authors, and is available in both paperback and ebook formats.
The book itself weighs in at just under 500 pages and is well worth both the price and a place on your bedside table to keep you awake during the dark nights this winter.
If you like your horror bitesize, why not pick up a copy over at Amazon.com/Amazon.co.uk?