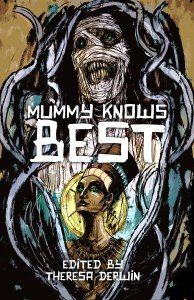 I'm pleased to announce that, after a brief revision, Terror Tree's 'Mummy Knows Best' anthology is no longer under wraps, having arisen once more on both Amazon.co.uk and Amazon.com to terrorize the living.
Featuring brand new work from fifteen authors on a central theme, the book houses stories of mummies from around the globe, including Egypt, Latvia, Britain, Japan and Peru (as well as a couple of tales from outside of the box as well).
If you like new twists on a classic monster, then why not dig up a copy (just beware of the curse!).