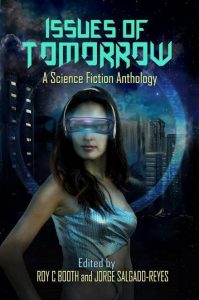 OUT TODAY is Indie Authors Press' future-themed anthology "Issues Of Tomorrow", which includes my story 'Broken Machines'.
A second SF piece from me in the last few months, this one tells the tale of Soriah, an abused pleasure droid taken in by an ageing off-world tinkerer, who helps her to understand what it is to be truly alive.
Featuring a bumper collection of work from 19 different authors, all exploring the question of 'What If?', the book is available to purchase from both Amazon.co.uk and Amazon.com.
You can check out the contents list below:-
One Story Short  – Gustavo Bondoni
Wildtopia  – Michael W. Lucht
The Definition of Johnny  – Damien Krsteski
Broken Machines  – Carl Barker
Walking The Mile  – Wayne Faust
Blur  – Brandon McNulty
Blood Is Red  – Mileva Anastasiadou
Waiting for the Show  – John K. Webb
Hela's Brain  – Juliana Rew
Living Space – Frank Roger
The Portrait  – Adjie Henderson
Moments In Time – Gerri Leen
Joshua Was The First  – Kevin Edwin Stadt
The Mail Order Bride – Nidhi Singh
The Singularity  – Leah Lederman
It Comes To You In A Plain Brown Wrapper  – Andrew Marinus
Birthday  – Dave de Burgh
A Communicator With Animate Objects  – Dennis Mombauer
My Trip to the Circus  – Jason Lairamore